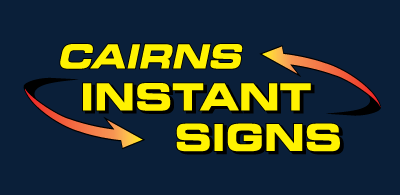 Products
Our aim is to help save you money so we generally supply complete signs for you to put up. Most signs we make are on metal or plastic backgrounds. Corflute or PVC is often used for short term or indoor use. Perspex (Acrylic) is used for interior or exterior signs and is most commonly used in light boxes because of its 'pearl' and 'clear' colours. It gives a high standard appearance to any sign... and can also double as a white board. Signwhite (white Colorbond) and Composite Aluminium are used for our metal signs. Most are made flat, but if needed they can be mounted onto a frame. These days there are so many different sign options for you to consider, so if what you are looking for is not listed here, just drop us a line and ask!
Some types of signs we can provide you with:
DIY (Do-it-yourself)
If you are out of town or would just like to save money, we can supply you with ready cut vinyl lettering or graphics ready to apply yourself, with instructions.
STICKERS AND LABELS
Looking for full colour stickers? We specialise in short runs for small quantities. Whether you need bumper stickers, car decals or name labels (even iron-ons!) we can help you.
BANNERS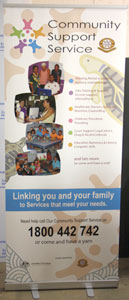 Pull up or retractable banners are one of our specialties. PVC banners come completely sewn with eyelets and/or rope and can be custom made if you need a particular size or colour.
PVC banners come completely sewn with eyelets and/or rope and can be custom made if you need a particular size or colour.
Entrance banners (or flags) are small double-sided banners on PVC rods that are attached to the wall near a doorway or entrance. Most have a message like 'NOW OPEN' but the message can be customised to your needs.
Customised celebration banners are another specialty to add to the list. These are either PVC banner material with eyelets or the smaller plastic poster. These will put that personalised finishing touch to your party!
SANDWICH BOARDS and SIGN STANDS
Sandwich boards (or A-frames) are made with 600mm x 900mm signwhite faces on a strong RHS frame. They stand 1 mt tall and are very sturdy and durable.
Galvanised 'wire' frames are also available with corflute inserts.
PVC sign stands are made in a T shape with 600mm x 900mm corflute sign faces. They can be custom made if required.
Perspex can be fabricated to create small desk top signs, ideal for shows and displays. Brochure or card holders can also be incorporated into custom made signs or stands.
Roadside signs with changeable letters is a good way to display your specials. They are double sided & on wheels for easy manoeuvring.
VEHICLES
All signs advertise. The more advertising you do the more awareness there is of your business, service or product. Cars and trucks, or any vehicle for that matter, are excellent ways to advertise. Even private cars are a great opportunity to get your name out there - that's advertising for FREE! Vinyl lettering, full colour decals & bumper stickers, one way vision, and signs for ute trays are some ways you can maximise your presence!
Magnetic signs for cars are a great way to advertise with flexibility. Should you be running around in an unmarked private car, simply whack the signs on before you leave. Even the family car can be utilised as an advertising tool if you want.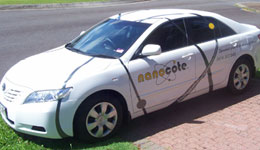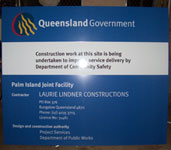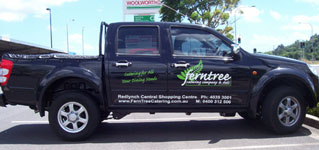 LANGUAGES
Yes, we can make signs using different languages. We have access to translators for most languages or you can have the translation done yourself. For languages with unique alphabets or characters, such as Chinese, Japanese & Mandarin, we need a sharp laser typeset copy or editable PDF file.
MAIL ORDER
Any sign we make can be sent to you by mail or on transport.